This is the clearinghouse for the latest news and opinion on stormwater management in the state of Pennsylvania. This site serves as a supplement to our flagship Online Resource Center, www.StormwaterPA.org -- a must visit site loaded with information on Stormwater Best Management Practices, Case Studies, Regulations, Technical Details, and more.
What happens to Superfund sites after a Superstorm?
This morning when I was about to head out the door, I caught an interesting (and alarming) story on Morning Edition on NPR.  
What happens to Superfund sites after a Superstorm? A few weeks after Hurricane Sandy, many are worried about the toxic chemicals from nearby Superfund sites. Last year during Hurricane Irene, flooding added PCBs and Dioxin into the Passaic River in New Jersey. Both of these cancerous contaminants swept onto a local baseball field, which then had to be decontaminated. You can hear more about the problems from last year's storm in the Morning Edition story.
With stormwater, we know that it carries pollutants along with it. So how concerned should we be about Superfunds?
In an article from last week, the Wall Street Journal writers point out that of New York's and New Jersey's "198 Superfund toxic-waste sites, 45 are within a half-mile of coastal areas vulnerable to storm surge." According to the EPA, several sites "were impacted by the storm." However, Larry Ragonese, a spokesman for the New Jersey's environmental agency, is quoted in the WSJ saying, "Superfund sites were not inundated by tidal surges."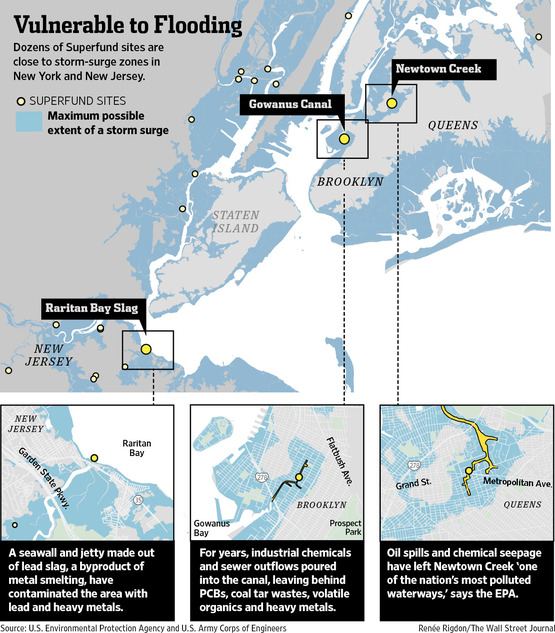 However, as worrisome as the possibility of flooding impacts at these Superfund sites is, there are other important contamination fears as well. WNYC's recent article discusses how bacteria and oil in the flood waters may be of even more of a concern to nearby Brooklynites than the nearby Superfund site of the Gowanus Canal.
Of course, when cleaning up after a flood, you should ALWAYS be careful and take the necessary precautions. (Be sure to check out the EPA's booklet on "Flood Cleanup and the Air in Your Home.") From Superfunds to oil spills to bacteria, there is a lot that can be in the flood waters. But with major storms in the future, what are the steps we can be taking now to decrease huge problems?
Comments (0)