To Enhance Quality of Life
Studies have proven that green space improves the air, protects the water, and attracts people and employers to communities – all of which creates a better quality of life.
To Enhance Quality of Life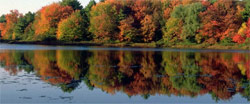 It is clear that polluted runoff—stormwater—has had an increasingly negative impact on water resources as our population has grown. The demand for new housing, roads, shopping centers, industrial facilities, parking lots, and other structures and infrastructure will continue to change hundreds of thousands of acres of natural landscape every year—and this will not only increase this impact, but affect our natural and built communities for generations to come.
Smart Growth, Low Impact Development, and Watershed Planning are but a few of the methods being utilized to ensure that the developments we undertake today minimize our impacts, in the short term as well as the long. Incorporating comprehensive stormwater management approaches into our thinking can significantly improve the quality of life on a specific site, within a given community, and throughout an entire region.
Clean, healthy waterways provide a range of recreational opportunities, from swimming and rafting to fishing, bird watching, or simply enjoying a day at the beach or a hike in the woods. These activities make for healthier individuals, nurture the human spirit, and benefit local economies by making for desirable places to live, work, raise families, and more.
Where Do You Want to Live?
Given a choice, who would not prefer the visually attractive, character giving qualities of a diversely vegetated landscape over one that is entirely graded and paved?
Besides providing beauty and color, vegetation helps counter the "heat island effect" in which heat from the sun is absorbed by hardened (and often dark-colored) surfaces. In contrast to impervious areas which release heat more slowly, green spaces provide a cooling effect.
Vegetation also improves air quality by slowing the formation of ozone, releasing oxygen, and storing carbon. This in turn can help fight climate change and slow its planet-altering effects.