This is the clearinghouse for the latest news and opinion on stormwater management in the state of Pennsylvania. This site serves as a supplement to our flagship Online Resource Center, www.StormwaterPA.org -- a must visit site loaded with information on Stormwater Best Management Practices, Case Studies, Regulations, Technical Details, and more.
Networking Together for Action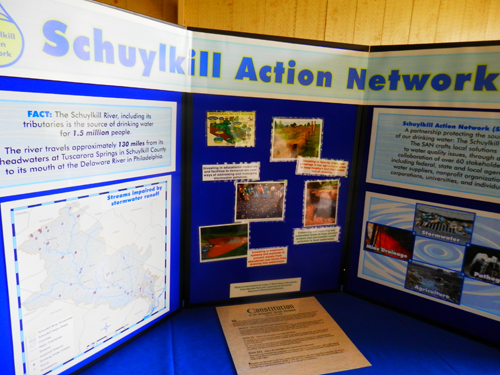 A couple weeks back, I trekked out to the John James Audubon Center at Mill Grove in Audubon, PA, to celebrate the tenth anniversary of the Schuylkill Action Network.  The members of the Schuylkill Action Network come from organizations, businesses, and governmental agencies from the throughout the watershed. They work together to achieve a "shared vision of clean water and a healthy environment for the Schuylkill River and its tributaries." At this event, it was wonderful to see so many familiar faces and to think back on the numerous accomplishments of the network.
Following this celebration, I felt inspired to think about all of the partnerships that we participate in to inspire people to take action.
I feel thrilled to unveil StormwaterPA.org's newest, partnership-powered endeavor: Clean Your Water. For several months now, we've worked closely with the Pennsylvania office of the Alliance for the Chesapeake Bay to craft a resource website for municipalities in Cumberland County. This new Clean Your Water project will help municipalities in watersheds across the state educate about the value of caring for local watersheds. We curate and create multimedia resources that are relevant and important to diverse audiences. Clean Your Water will provide key community groups with the knowledge to greatly benefit watershed health.
Whether we are working in the Chesapeake Watershed or the Delaware Watershed, we always work towards the goal of protecting our waters from the harmful effects of polluted stormwater runoff. If you want to inspire people to take action towards more sustainable ways, then collaborating with others is an amazing way to meet your target.
Comments (0)