This is the clearinghouse for the latest news and opinion on stormwater management in the state of Pennsylvania. This site serves as a supplement to our flagship Online Resource Center, www.StormwaterPA.org -- a must visit site loaded with information on Stormwater Best Management Practices, Case Studies, Regulations, Technical Details, and more.
EPA and City of Philadelphia Sign Landmark Agreement
Philadelphia -- April 11, 2012
Yesterday saw another Philadelphia first, when U.S. Environmental Protection Agency (EPA) Administrator Lisa Jackson and Philadelphia Mayor Michael Nutter, joined by U.S. Representative Allyson Schwartz and city and federal officials, signed an agreement that represents a $2 billion investment in Philadelphia green infrastructure during an event at the Fairmount Water Works.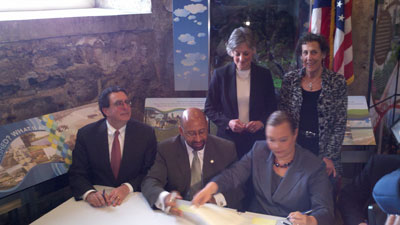 Philadelphia Water Commisioner Howard Nuekrug, Mayor Michael A. Nutter, and U.S. EPA Adminsitrator Lisa P. Jackson sign landmark Green City, Clean Waters agreement as U.S. Representative Allyson Schwartz and Deputy Mayor Reina Cutler look on.
The event was attended by an impressive array of leaders in the local environmental, conservation, and sustainability movement -- highlighting not only how far the City of Brotherly Love has come in recent years, but how many partners have united for the benefit of the region' community, environmental, and economic health. Mayor Nutter called out the City's Water Commissioner, Howard Nuekrug, and EPA Region 3 Water Protection Division Director Jon Capacasa for their vision and determination and acknowledged the critical involvement of Penn Future, Pennsylvania Environmental Council, Natural Resources Defence Council, Pennsylvania Horticultural Society, and numerous others in getting the first implementation efforts in the ground.
Philadelphia is leading the development of green strategies to manage urban stormwater runoff – the 21st century's greatest challenge to the health of our nation's rivers and streams. Philadelphia's Green City, Clean Waters Plan layers green technologies modeled on natural practices on top of the city's 3,000 mile sewer network, Philadelphia's 20th century investment in traditional "gray" infrastructure, to capture rainwater on the surface. Capturing rainwater prevents sewer overflows containing industrial and human waste from discharging to waterways during wet weather. It will transform streets, parking lots, schools, public spaces into urban landscapes that reduce sewer overflows to our waterways while enhancing our communities.
Under the agreement, EPA will provide assistance to the city in identifying and promoting higher performing green infrastructure designs, convening technical expertise from around the country to advance green designs and support a green design competition, and help remove barriers to innovation in the city's plan. EPA will also assist on research and technical assistance, and monitoring the effectiveness and evaluating benefits of the program through cooperation on water quality monitoring and modeling work that the city has undertaken.
Read more at Bloomberg News >>
Comments (0)